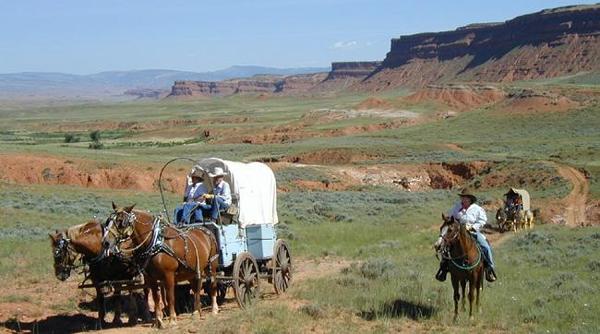 One would think that after making four trips back and forth to California in the past few years, we might head out in some other direction for a summer odyssey, but... no. We've just returned from the wild west yet again. Not all the way to Cali this time, but still far eno
ugh and long enough to explain the posting drought since July 4.
Before hopping in the van for the frontier, we spent a fun weekend with Ron's family out at Lake Michigan. The lake was swimmable (or, for our hardy Pipster, surfable), but for the wimpier women, hey, the hot tub is
always
fabulous.
One evening we gathered on the beach for the traditional bonfire/s'mores combination. I think we've had s'mores about twenty times this summer. At some point, ya know, s'nuff.
Sunsets like this, though, we could handle every night.
Then after a brief pause for a week of soccer camp (Mia) and string camp (Jacob) and blessed freedom from siblings (Philip), it was time to cram into the minivan for hours of family togetherness on the way to: Colorado.
Along the way, we visited many old friends. It turns out we are lucky enough to have friends, if not in every port, then at least in a good number of Midwestern towns, including St. Charles, Illinois; Bloomington, Minnesota; Willmar, Minnesota; Sioux Center, Iowa; and Sioux Falls, South Dakota.
While staying with our friends the Kleinhuizens, the children discovered all the fun things other kids get to do and they don't, such as tubing and fishing (though Jacob found that the infamous "grass bass" was a more common catch than the elusive walleye).
In Sioux Center, Ron got a chance to golf with old friends Todd and Curtis (can you tell the golf course is carved out of the cornfields of the midwest?).
In South Dakota, we visited old friends Dawn and Andrew, whose precious daughter Althea took a shine to Jacob.
At last, we arrived at our destination, Snow Mountain Ranch, where we got to hang out with the Calvin students on staff there this summer and serve as their official
professors-in-residence-of-the-week
. Besides running around the ranch indulging in camp-style fun, we took a hike one day in Rocky Mountain National Park, and marveled, once again, at how close to the sky one can feel at 12,000 feet above sea level.
After our week at SMR, we zinged home to our little tiny baby puppy Maizey, only to find that somehow, in our absence, she had become... a DOG. We're grateful to the two Calvin students who house-and-dog sat for us, but also suspicious: steroids maybe??
So much for another westward odyssey. We're pretty good at it now. But next year, maybe we'll head east. Crabcakes, anyone?