And now, time for some lousy theology.
On Pentecost, of all things.
I've been noticing tiny miracles lately, things like finding a parking space when you really need one, or coming across just the quotation you were looking for, or hearing a kind word from someone who doesn't know that you're feeling bummed and discouraged.
How does this work? I mean, I believe in Providence with a capital P, and I'm happy to put some things down to random coincidence. But what about that broad expanse between Grand Divine Plan and all the insignificant whatevers? Jesus remarked that the hairs on our heads are numbered, but who exactly is doing the accounting?
My answer: angels. Staff. Underlings. Minions.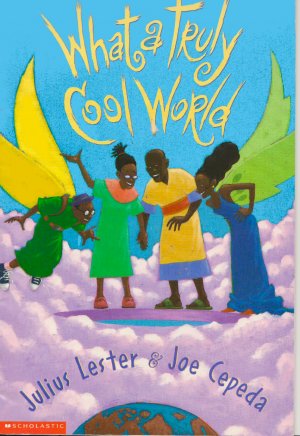 Who knows? Really, I have no idea. But it amuses me to imagine that God's intimate knowledge and care, as attested in biblical passages such as Psalm 139, are duly supported with several layers of errand-running staffers. We used to love the fabulous children's book,
What a Truly Cool World
, which features a character called "Shaniqua, the Angel in Charge of Everybody's Business." That's what I'm talking about. Shaniqua surely must have a staff.
So based on some events of the last few weeks, I herein make some guesses about what sorts of job categories branch out under Shaniqua in the heavenly org chart:
Kindred Spirit Encounters
It's been a month now since the
Festival of Faith and Writing
, and I might still have a bit of a hangover from the high. This was my first time at the Festival as a member of the organizing committee, and I felt like someone giving a fabulously successful party. You invite the guests, you set out the platters and cups, and then... you cannot be sure what will happen.
I suppose when you get 2000 book-loving
people in the same place for a few days, the laws of probability suggest that amiable connections will occur. Even so, it all felt vaguely miraculous. Student volunteers, assigned to shepherd around authors they previously knew nothing about, developed "author crushes" on people like
Kate di Camillo
or
Donna Freitas
. People who had never read
Richard Rodriguez
swooned over his plenary lecture and rushed to buy his books. One of my favorite moments was after Rodriguez's interview, when he was greeting people in the chapel. Here comes
Thomas Lynch
for his interview in the next session. The two recognized each other, though they had never met before, and rushed to shake hands. "Oh I'm so glad to meet you! I love your work!" they both declared. I got to meet numerous authors whom we had invited on the strength of their work only to discover that they are lovely people, too.
As miracles go, the Festival is carefully engineered--it requires two years of planning and a savvy and hard-working
staff
. But now that I've seen behind the scenes, as it were, I know that our engineering does not fully explain the wonders that transpire.
(Photo credit:
Laura Cebulski
)
Last-Second Baskets, Hail-Mary Passes, and other Sports Miracles
Angels in the outfield, yes, yes, I'm sure there are. I'm more interested in the soccer pitch, where I have witnessed barely perceptible but effective forcefields around the goal box, strangely curving corner kicks, and mysterious bursts of footskills at crucial moments. Just a couple weeks ago, after Mia had endured a deeply discouraging week, she scored a winning goal in sudden-death overtime. Stuff like that is not random.
Pleasant Holiday Celebrations
I believe this is one of the less efficient and reliable departments--poor history of customer satisfaction, intermittent colossal breakdowns, etc. However, once in a while, you get, say, an Easter weekend with Edenic weather, good church, decent food, and nicely behaved relatives.
Children in Cheery Moods
This department is evidently sorely understaffed. No doubt my children would say the same for Parents in Cheery Moods. It's a busy and stressful time of year; Shaniqua could look into some seasonal hiring.
Terrific Shopping Finds
The other day I was planning to go to Costco to buy supplies for a little get-together, and instead, at the last second, I turned into Meijer. I happened to wander through the patio furniture department and--hey! I found the perfect little chair-and-table set for my new deck, all at a bargain price. Thanks, shopping angels!
Aha Moments
Yesterday, Calvin graduated another 950 young people into the world. I realized, watching quite a bevy of English majors stride down that aisle, mortarboards bobbing and robes swirling, that we are losing a very strong class this year. And I marveled again at the thousands of fruitful conversations, in person and in writing, that I get to have with lively young people every semester. Several of these good folks were in three of my classes over their four years, which means they probably know more of my quirks than I wish. Then again, I know theirs, too. I hope it makes us all fond of each other and grateful for the intensity of college life. We all need a rest from that intensity now, but at its best, college is a wonderful place where "aha moments"
pop up like tulips in April. Now let's hope that the angels of resumes, interviews, and job placement will swoop into position and take over.
Traffic Safety
How would parents sleep at all without this department? With my second teenager about to start driver's training in a few weeks, not to mention my aging parents still tooling around town, I maintain a state of intimate conversation with the traffic safety staffers. Every safe trip to a soccer game or back from a friend's house late at night feels like a minor triumph to me.
I know I have had a tendency in the past few years to see failure and focus on disappointment. These days I'm trying to recognize abundance in the everyday miracles.